THE NEXT BEST THING TO FREE ENERGY!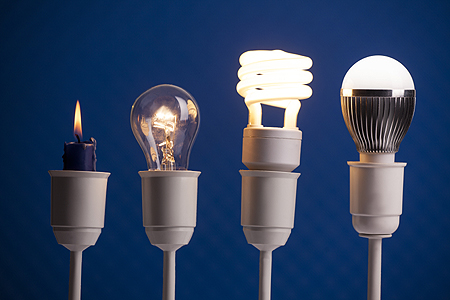 Home and business owners are catching on to the most environmentally responsible and cost efficient investment available today. LED…  or "Light Emitting Diode" technology.  LED'S have a significantly longer life span than traditional light bulbs and fluorescent tubes and are easily retrofitted to existing systems. LED'S reduce engergy consumption and maintenance costs while providing a more aesthetically appealing, eco-friendly lighting option.
Unlike fluorescent and incandescent bulbs, LED lighting products contain no hazardous mercury or lead. Additionally, the average lifespan of the LED is estimated at being up to ten times longer than a traditional CFL bulb. Disposal and replacement costs are thereby significantly reduced. LED bulbs are also cool to the touch, which reduces energy costs spent on cooling systems.
Connection Technologies now carries and installs a new line of LED Panel Lights and LED Fluorescent Tubes that will provide beautiful consistent light without the dangers of hazardous waste. The LED panel light is a seamless replacement, with each piece replacing up to four bulb fluorescent lay-in ceiling lights while using half as much energy.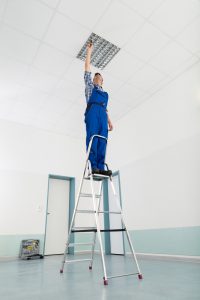 Rectangular led panel fixtures are ideal for illuminating office spaces, and are an easy replacement for fluorescent recessed ceilings. The LED provides a uniformly crisp, bright light while cutting energy costs. Suitable for both retrofit replacement and new office construction.   The recessed LED panels replace fluorescent troffers and are ideal for all locations which require commercial fixtures, including office buildings, schools, retail spaces, hotels and hospitals. With a lifetime of some 50,000 hours, the no-glare LED panel is built for purpose.
Connection Technologies currently carries drop ceiling LED fluorescent replacements available in two sizes:
•2×4 LED panel light – 50 Watt Output
•2×2 LED panel light – Uses 40 Watt Output
Both available in 3 color temperatures
We also carry a line of fluorescent replacement tubes in a variety of sizes and lumens.  These tubes can be used in original fixtures with no rewiring required.  All of our lighting products have been specifically designed to provide the highest performing lumen output at the lowest cost. Our products are DLC listed and meet American Industry Standards.
So if  you are looking for a cost-effective and effective lighting solution to replace traditional fluorescent drop ceiling fixtures… Make the switch to LED flat panel and LED tube lights today!!!
Contact us for more information and a free survey.